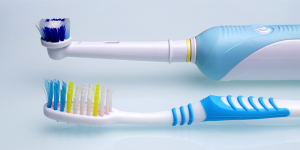 Manual, Electric and Sonic Toothbrushes
With the many options of toothbrushes available today, we understand that choosing the right one for you can be overwhelming. If you are considering changing your brush style, read more information below about manual, electric and sonic toothbrushes.
Manual Toothbrushes
Manual toothbrushes are the most common type of toothbrushes, available at your local convenience store. Many people choose to opt for the manual toothbrush because it is a much cheaper option compared to the electric and sonic toothbrushes. Studies have shown that there is not a huge difference in using a manual toothbrush vs. an electric/sonic toothbrush, as manually brushing still cleans the surface of your teeth of food debris and plaque. However, manual toothbrushes clean your teeth at a rate of around 300 brush strokes per minute, while electric and sonic toothbrushes operate much faster (see below).
Electric Toothbrushes
Electric brushes operate at a much higher brush stroke rate than manual toothbrushes, with around 3,000 – 6,000 brush strokes per minute. A brush stroke from an electric toothbrush differs from that of a manual toothbrush because it moves much faster in a smaller surface area, using either oscillating or vibrating motions.
Sonic Toothbrushes
Sonic brushes differ from electric brushes slightly in that they vibrate at a much higher frequency, about 30,000 to 40,000 strokes per minute. Sonic toothbrushes have been found to have a slighter higher cleaning rate because they clean harder to reach areas, such as under the gums and in between the teeth. However, while this may be true – nothing compares to flossing in between the teeth. The ADA recommends for adults with arthritis or who have a hard time manually brushing to change to electric or sonic toothbrushes, which increases stability for your hand while brushing.
Whatever option you chose, as long as you are brushing for two minutes twice a day and flossing once, you will be able to effectively keep your teeth clean and healthy! If you have any further questions about the toothbrush for you, give us a call at [PHONE link = "true"]!